with so little new content on tv currently, i ended up streaming 'grace & frankie' on netflix again.
lily tomlin
was so great in the 1st season. (i believe season 2 starts in a few months.)
she really did deserve an emmy for her performance.
sadly, she only got nominated for it, she didn't win.
but she was incredible.
jane fonda
was no slouch either.
i am really eager to see season 2.
and i actually think i enjoyed the show more watching it again.
how common is that?
very few tv shows improve with repeat watchings.
this really is a 1st rate show.
may 6th.
i just looked it up, season 2 will be up at netflix on may 6th.
and netflix has already ordered a 3rd season - which i did not know.
yea!
maybe this fall will see both lily and jane nominated for emmys and 1 of them can actually walk away with the statue.
let's close with c.i.'s '
Iraq snapshot
:'
Thursday, January 28, 2016. Chaos and violence continue, the Iraqi government continues persecuting Sunnis, Susan Sarandon speaks out for Bernie Sanders, and much more.
Today, the US Defense Dept announced:
Strikes in Iraq
Attack, fighter and remotely piloted aircraft and rocket artillery conducted 15 strikes in Iraq, coordinated with and in support of Iraq's government:
-- Near Baghdadi, three strikes struck two separate ISIL tactical units, suppressed an ISIL mortar position, and destroyed three ISIL rocket caches, two ISIL rocket rails, four ISIL mortar tubes, an ISIL heavy machine gun and an ISIL vehicle.
-- Near Habbaniyah, a strike struck an ISIL tactical unit.
-- Near Ramadi, eight strikes struck four separate ISIL tactical units, denied ISIL access to terrain, and destroyed six ISIL vehicle bombs, an ISIL vehicle, an ISIL staging area, an ISIL fighting position and an ISIL mortar position.
-- Near Sinjar, two strikes struck an ISIL tactical unit and destroyed an ISIL heavy machine gun, an ISIL light machine gun and five ISIL fighting positions.
-- Near Sultan Abdallah, a strike destroyed an ISIL vehicle.
Task force officials define a strike as one or more kinetic events that occur in roughly the same geographic location to produce a single, sometimes cumulative, effect. Therefore, officials explained, a single aircraft delivering a single weapon against a lone ISIL vehicle is one strike, but so is multiple aircraft delivering dozens of weapons against buildings, vehicles and weapon systems in a compound, for example, having the cumulative effect of making those targets harder or impossible for ISIL to use. Accordingly, officials said, they do not report the number or type of aircraft employed in a strike, the number of munitions dropped in each strike, or the number of individual munition impact points against a target.
Over 16 months after Barack Obama began bombing Iraq, there are no new ideas.
No positive results and no new ideas.
Unable to turn the mythical corner in Iraq, he does as Bully Boy Bush did before him, send more US troops into Iraq.
SPUTNIK reports
, "US Secretary of Defense Ashton Carter is prepared to ask for additional troops in Iraq if additional actions need to be undertaken against the Islamic State terror group, US Department of Defense spokesperson Peter Cook told reporters on Wednesday." Cook stated that there are currently 3700 US troops in Iraq.
Lisa Ferdinando (FORT CAMPBELL COURIER) adds
, "The United States potentially will make recommendations to position U.S. troops with Iraqi security
forces in northern Iraq to support the next phase of isolating the key city of Mosul, the chairman of the Joint Chiefs of Staff said."
The continued talk of sending more US troops to Iraq comes as there's yet another US death in Iraq.
STARS & STRIPES reports
, "A coalition servicemember supporting operations against Islamic State militants in Iraq and Syria died of a noncombat-related injury in Iraq, the Combined Joint Task Force in charge of Operation Inherent Resolve said in a statement."
Back in November, Pvt Chrisopher J. Castaneda died at Al Asad Air Base from a "non-combat related incident
."
These are deaths in Barack's endless wars.
His endless and illegal wars.
There's no authorization from Congress for what he's ordering in Iraq and Syria.
The issue of the lack of authorization was raised in today's US State Dept press briefing moderated by spokesperson Mark Toner.
QUESTION: About the authorization for the use of military force against ISIL that Mitch McConnell put forward, do you have any concerns about it being effectively an international martial law declaration where the U.S. could take action anywhere with any number of troops and for any duration of time? Do you find anything concerning about this kind of authorization?
MR TONER: I haven't looked at the draft legislation. I'm sure that we're working with Congress. I'd also refer you to the White House on some of these issues, so I don't have any particular comment to that. What we want to see, as in any case like this, is a robust debate within Congress, and we're ready to look at any legislation once it passes.
QUESTION: It offers sweeping powers to the President. Do you think – would you like the next President of the U.S. to have such an authorization?
MR TONER: Again, without having it in front of me, without having studied it, I'm not going to offer a judgment on it.
Please.
QUESTION: Do you feel that this is a step to sort of augment the President's strategy in the fight against ISIS, Mitch McConnell's --
MR TONER: Look, again, this is something we've been back and forth with on Congress many times. It's an ongoing discussion. What I think we want to see is, as I said, is a robust debate within Congress on the AUMF going forward. We would welcome that.
QUESTION: And in the absence of a different kind of authorization, is the Administration – would the Administration be inclined to accept this sweeping one?
MR TONER: Again, we're looking into the legislation, working with Congress, but nothing to announce on that.
Please.
QUESTION: But the point is you still don't think you need this anyways, right? You're – you have a legal war as far as you're concerned.
MR TONER: We believe we have legal justification, yes.
He believes wrong according to most legal scholars.
Being on the wrong side?
A truly horrific video circulating showing a Shia militiaman disemboweling &/or skinning a Sunni corpse in #Iraq, with 2 other men beheaded.
These militias are part of the Iraqi government. Prime Minister Haider al-Abadi brought them in under the umbrella of the 'Popular Mobilization.'
And they carry out crimes against Sunni citizens.
Repeatedly.
Earlier this week, Human Rights Watch published "
Iraq: Civilians Pay Price of Conflict
:"
Iraqi security forces and pro-government militias committed possible war crimes during 2015 in their fight against the extremist group Islamic State, also known as ISIS, by unlawfully demolishing buildings in recaptured areas and forcibly disappearing residents, Human Rights Watch said today in its World Report 2016.
Iran, the United States, Russia, the United Kingdom, Germany, France, and other countries provided military support to the Iraqi government despite a continued absence of credible accountability for those responsible for these crimes.
ISIS carried out numerous atrocities, including summary executions and indiscriminate bombings.
"ISIS and Iraq's government-affiliated militias are both committing atrocities against civilians with evident support from their commanders," said Joe Stork, deputy Middle East director. "Making matters worse – much worse – is the fact that Iraq's justice system isn't providing any semblance of accountability."
As we stated last week, the Islamic State is a terrorist organization.
Terrorist organizations commit crimes. They do awful things.
That's what a terrorist organization does and is.
But a government is supposed to protect its citizens.
When a government fails to do that or, worse, when it targets and persecutes its citizens, that's what's known as news.
Was it treated as news?
Before we answer that question, let's remember last week, when the United Nations issued a report making similar points, the western press ran with condemnations of the terrorist group the Islamic State while avoiding the crimes of the Iraqi government.
Tuesday, the 19th
, when the report was released, it was one piece after another about the Islamic State. By the end of last week, only
Aisha Maniar (TRUTHOUT) had bothered to cover
the reports of the Iraqi government targeting civilians.
Was it any different this week?
Yes.
Without the Islamic State to focus on, the so-called press ignored the Human Rights Watch report.
Ignored it.
One western outlet after another took a pass.
A government is supposed to protect its citizens.
Repeating, when a government fails to do that or, worse, when it targets and persecutes its citizens, that's what's known as news.
The US government has thrown its lot in with a government that attacks its own people.
That's in violation with many US laws, with international law and with many treaties the US is a signatory to.
And even so-called 'realists' -- people who tolerate any broken law if they think it results in some advantage -- can't argue that this benefits anyone.
The persecution that's taking place?
It's been going on for years and it's what fueled the rise of the Islamic State in Iraq.
Related . . .
Two Sundays,
Mohammed Tawfeeq (CNN) broke
the news that 3 Americans were missing in Iraq.
CBS NEWS and AP then reported
, "A group of
Americans who went missing
over the weekend in Iraq were kidnapped from their interpreter's home in Baghdad, according to an Iraqi government intelligence official."
Susannah George (AP) reported
that "two powerful Shiite militias are top suspects" in the kidnapping: Asaib Ahl al-Haq and Saraya al-Salam -- both linked to Iran.
Today,
Imran Kahn (AL JAZEERA) reports
:
The abducted Americans are only a small fraction of the people that go missing in Iraq every day.
Accurate figures on kidnappings are impossible to come by as the Iraqi government doesn't maintain a database on crime. One member of the Iraqi parliament told Al Jazeera that the amount of kidnappings has skyrocketed over the last six months and is now in the thousands.
In Sadr City we spoke Hussien Sarmad. He has witnessed intense activity in his neighbourhood over the last 10 days. He described to us late-night raids, helicopters buzzing over homes and counter-terrorism forces in the streets.
He is angry that when Iraqis are kidnapped from his neighbourhood, no one seems to care. "It's funny, all this fuss for three Americans. The security forces are turning our neighbourhood upside down. I doubt that they are even here," Sarmad said.
It's a common sentiment among Iraqi families who fall victim to this sort of crime.
The search for the kidnappers doesn't involve the military. Often times families of the victims receive no help from the police or international community and are left to deal with the threats from the kidnappers themselves.
This is yet another indictment of a government -- the Iraqi government -- which refuses to protect its citizens. It just doesn't care.
It has to care about Americans because without US support the puppet government out of Baghdad collapses.
Turning to the US political scene, Academy Award winning actress
Susan Sarandon
is in the news.
She's supporting US Senator Bernie Sanders in the race for the Democratic Party's presidential nomination.
Spent some great time sticking labels on flyers at Waterloo HQ. Their commitment is so inspiring.
#
FeelTheBern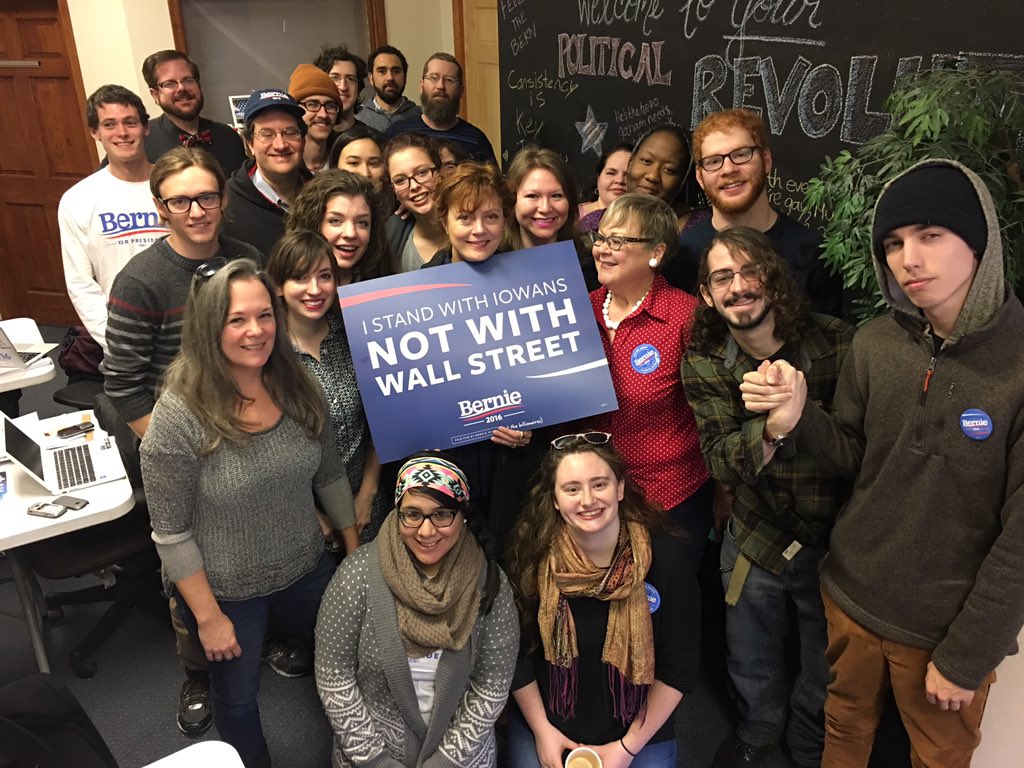 Bernie's chief rival for the nomination appears to be War Monger Hillary Clinton.
Jessica Chasmar (WASHINGTON TIMES) reports
:
Ms. Sarandon said Mrs. Clinton lost her support after voting for the Iraq War in 2002 as a New York senator.
"The biggest foreign decision that had to be made in terms of foreign policy was whether or not to go into Iraq and go into war, and she failed that test," she told the Daily Mail.
Mrs. Clinton went on to be secretary of state, "but what has she done that we're bragging about? How has she led?" Ms. Sarandon asked.
She didn't lead on equality.
Until 2013, she was a foe of marriage equality
. Long after others in elected office -- including US Vice President Joe Biden -- had taken a leadership role arguing for equality, Hillary was still opposing equality.
Susan noted Hillary's cowardice on the issue of equality.
Matthew Clark (SUN TIMES) notes
:
"It is one thing to be for gay rights and gay marriage once everybody else is for it," Sarandon said. "That's not difficult."
After her speech, Sarandon spoke with the Daily Mail, expounding on the idea that Clinton hasn't been a leader in the LGBT rights movement, despite receiving an endorsement from the Human Rights Campaign.
"There's a number of issues where she has come around but she very clearly equivocated or was not there in the beginning.
"She was not, and that's a matter of record, and yes she has come around. But my point is, it's great that she came around, but wouldn't it be great to be a leader instead of a follower, especially if you're going to hold the highest office in the land?"
Let's close with
Trina
's "
3 reasons we need to vote for Hillary Clinton
"
1) Overpopulation.

The earth is small, the population is growing.

A President Hillary Clinton would mean many, many wars and many, many, many deaths.

Hillary is the cure.

2) Lying will be accepted.

Hillary will not just popularize lying, she'll make it socially acceptable.

We'll no longer have to get on to our children for lying.

If we do, they'll just tell us that they're acting "presidential."


3) Equality is scary to some.

Hillary will ensure that vast poverty continues in the United States -- if only to assist her Wall Street friends.


Those are three reasons to vote for Hillary -- for some people.

They are among the three reasons I will not vote for Hillary.
iraq